Did Taylor Swift Get Plastic Surgery?
They just don't get it…
The number of celebs who are afraid to become the subject of plastic surgery is astonishing! Take Taylor Swift for example, ever since she's transformed from a country music artist to a worldwide pop star, she's been accused of having a number of cosmetic procedures done such as nose job, breast implants, lips, butt, you name it!
Although Taylor has "shake it off" as if it's just part of her job for being so rich and famous, but we all know that somewhere underneath that beautiful heart and soul of hers, she's not particularly happy about it.
The only question is why? Why doesn't she like it?
After all, people only check out her face and body because they think she's gorgeous, agree? Otherwise who would actually care and go into every little details picking out discrepancies from her eyes, nose, teeth, legs or….whatever!
At least…that's the only reason why we compare her before and after photos here.
Seriously, you think it's easy to be featured on our website? NO Freaking Way!! FYI…we only showcase beautiful people here. So Taylor Swift is only here because we think she's a total babe! That's basically it.
Yes, besides her unquestionable singing, dancing and song-writing talents, we also think that she's super pretty and hot. Therefore, it's very likely that she's had help from plastic surgeons. In other words, she's just too perfect of a human, a female to be born that way!
So Taylor, if you're reading this…please take this as a compliment.
Before & After Photos
Let's start by going through some of Taylor's past and present pictures. This should offer us some clues as to whether Swift has had any surgical or non-surgical beauty enhancements done during any period in her career.
Year 1995
Photo Credit: Andrew Orth / Coleman RaynerLook at that angel face! At just six years old, Taylor is already looking like a star in the making. She has beautiful double eyelids that runs deep below her eyebrows. With this, we can pretty much rule out any eye or eyelid surgery. It also appears she's got really ash blonde hair back then, no wonder they say Taylor's natural hair color changes by itself.
Year 1996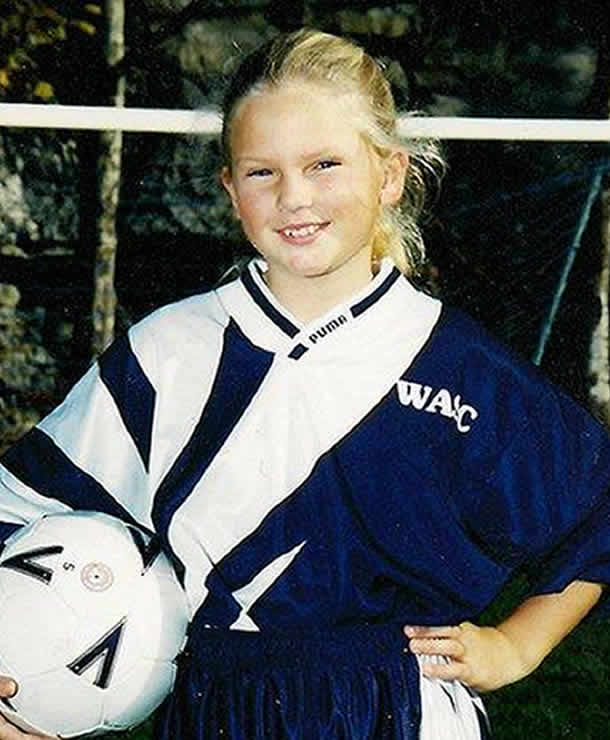 Souce: TwitterWho would have thought that she'd play soccer when she was young? It's not often you get to see a cute chubby Taylor Swift either. Just look at the baby fat on her face and that full waistline. It seems like she's got some big buck teeth too and you'll definitely see the teeth change if you compare her pics from back then and now. Braces anyone?
Year 2001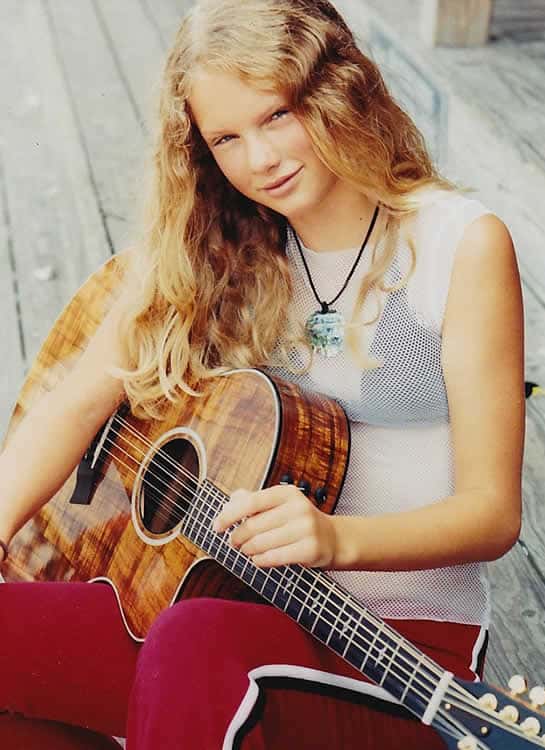 Image Credit: Andrew Orth / Coleman RaynerTaylor developed an interest in musical theatre at the young age of 9. She began taking vocal and acting classes in New York, but felt in love with country music after listening to Shanian Twain's songs. When she turned 12 (in the photo), she received help from a local musician and was taught how to play guitar and write songs.
With most of the baby fat gone, her facial features has developed into the familiar face we're so used to seeing. What a pretty young lad with incredible music talents!
Year 2003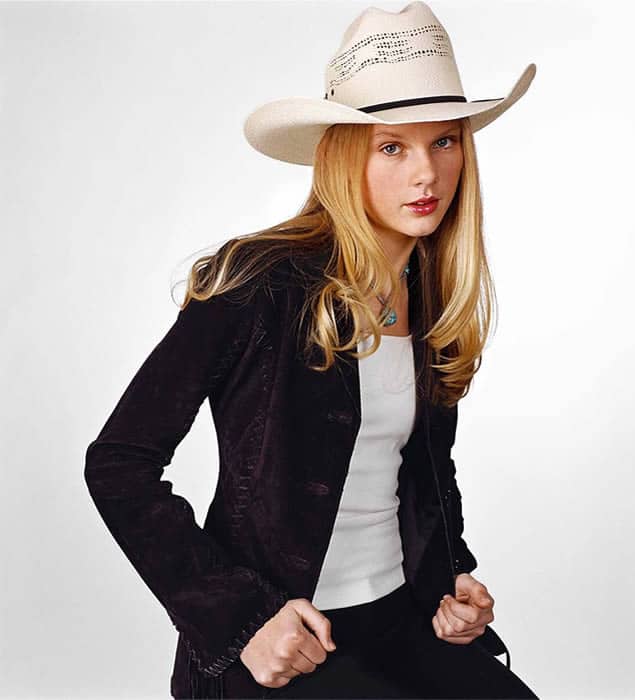 Image Source: TwitterTaylor's family relocated to Hendersonville, Tennessee, when she was 14 because her mother and father wanted to help her get into country music. You can see that she's lost a lot of weight here and her face shape has trimmed down quite a bit revealing her natural v-shaped chin. She definitely don't need chin implants or reshaping judging from this.
Year 2004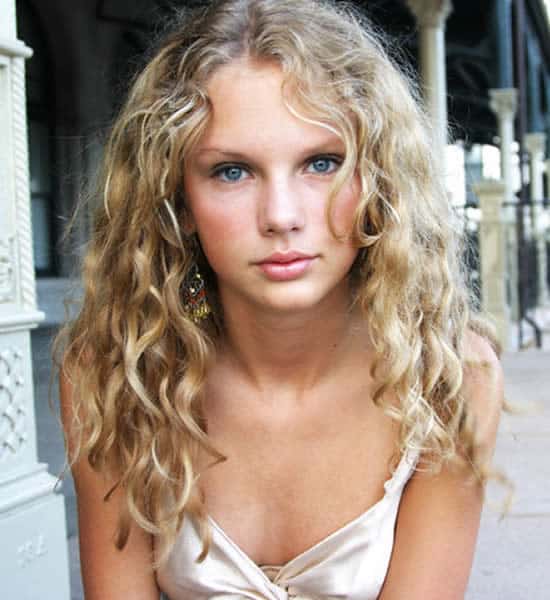 Photo Source: RedditWhen Taylor met Scott Borchetta in 2004, she became one of the first major signings for Big Machine Records. She's not only got the good looks, but her song-writing skills had increased substantially after working really "HARD" with Liz Rose, The Warren Brothers, Brett James, Troy Verges, Mac McAnally and so on.
We can pretty much agree that Taylor Swift's beauty is like god-gifted! Just look at her beautiful curly blonde hair and those talking blue eyes. Fresh without makeup, Taylor's jawline has become one of her most attractive attributes, although her nose does seem to be wider than it is now and her chest area was still developing.
Year 2006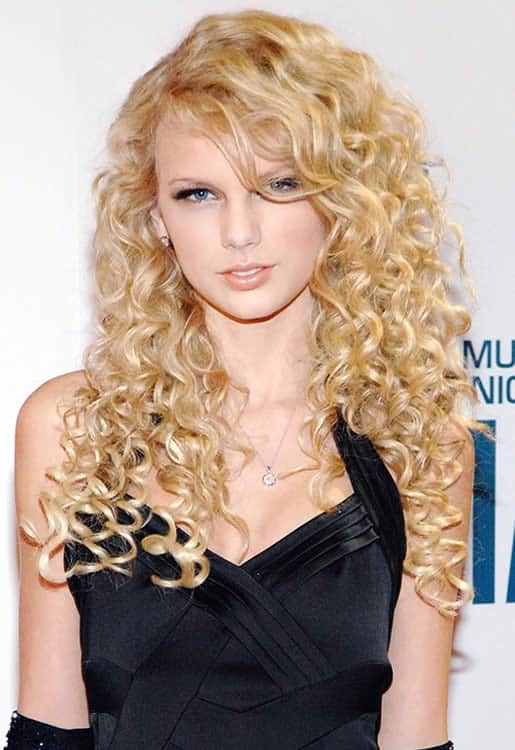 Picture: Getty ImagesAfter several years of learning, studying and hustling, she finally released her first new album "Taylor Swift" which peaked at number 5 on the Billboard 200. At just 17 years old, Taylor has tapped into a huge young girl's market and became an idol for many female teens. Suddenly, every girl wanted to copy the way how Taylor does her eye makeup, which was one of her most captivating features that enhanced her eye shape to perfection!
Year 2008
Credit: Getty ImagesTaylor released her second album, "Fearless" in 2008 and the lead song "Love Story" ranked number 4 in the US Billboard 100. She has officially became an American sweetheart with fans from both gender. Her makeup again is spot on and her lip color just adds onto her allure so it's no wonder why so many young American guys wants a girlfriend like Swift.
At age 19, we have yet to find evidence suggesting that the singer has had any form of plastic surgery. In fact, she has a rather normal sized heart shaped lips, not too plump and not too thin either so it appears lip injections are not in the books here.
Year 2010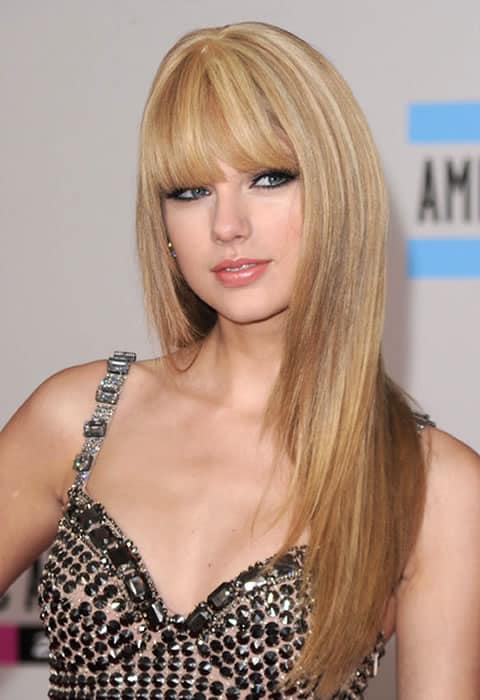 Photo Credit: Getty ImagesHere is the 21 year old Taylor arriving at the American Music Awards at the Nokia Theatre in Los Angeles. Apart from ditching her usual curly look for the all new straight hairstyle, her nose also appears to be different compared to before. She may have gone through a very subtle nose job here as you can see that her nose bridge appears to be thinner and the nose tips seems to be sharper and pointier too.
Miss Swift is clearly a full grown woman by now and judging from her breast size, we couldn't see any trace of a boob job (yet!) so we'll leave that opinion till later as we continue on.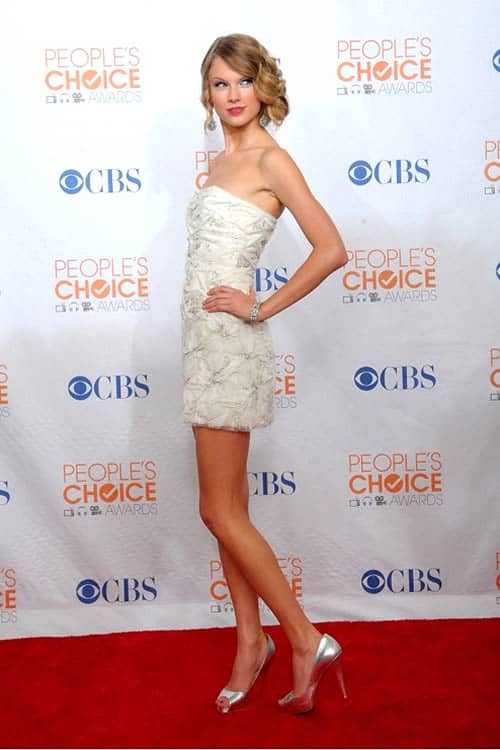 Picture Credit: GettyHere's a full body shot of Taylor when she attended the 2010 People's Choice Awards in LA. Perhaps there's a reason why people called her a stick. She's pretty tall and skinny to be honest, but we actually feel that she has a nice body for modeling. Doubt she'll ever need a liposuction though and looks like she would of made her fame one way or another…
Year 2011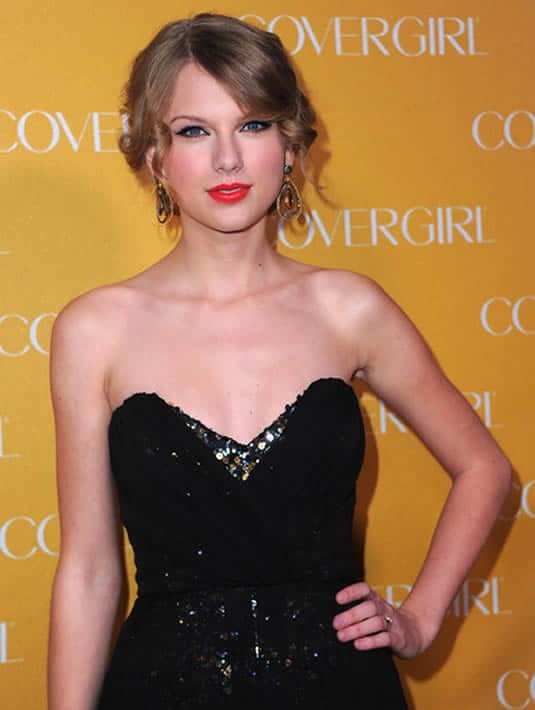 Credit: Getty ImagesAt the CoverGirl 50th Anniversary celebration party at the BOA Steakhouse in West Hollywood, California. Taylor is looking stunning in this black strapless sweetheart dress showing off her nice collarbones and shoulder structure. You have to also wonder what skin care she uses because her smooth radiant skin is contrasting her red lips beautifully!
Year 2012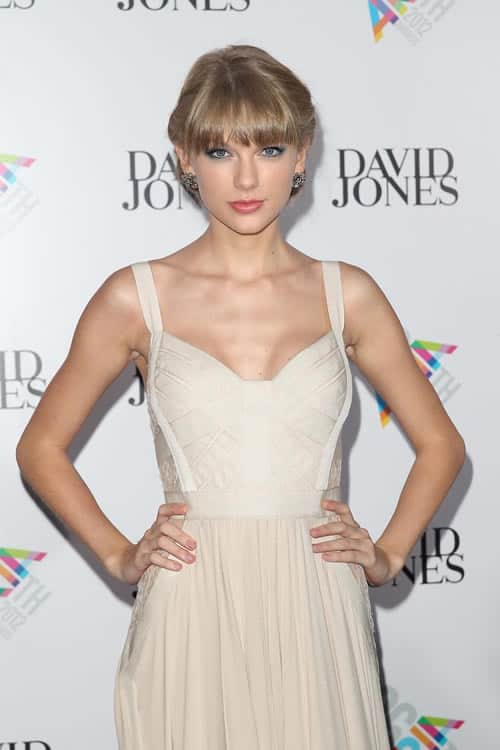 Photo Credit: GettyWhat a difference a year makes as Taylor heads to Sydney for the 2012 Aria Awards with her pair of "new friends"! Just look at her upper body and the way her cleavage is laying in that dress. Not sure about you, but those look like new boobs to us and they don't seem too natural either. If we had to guess, then yup…those are breast implants in there.
Year 2013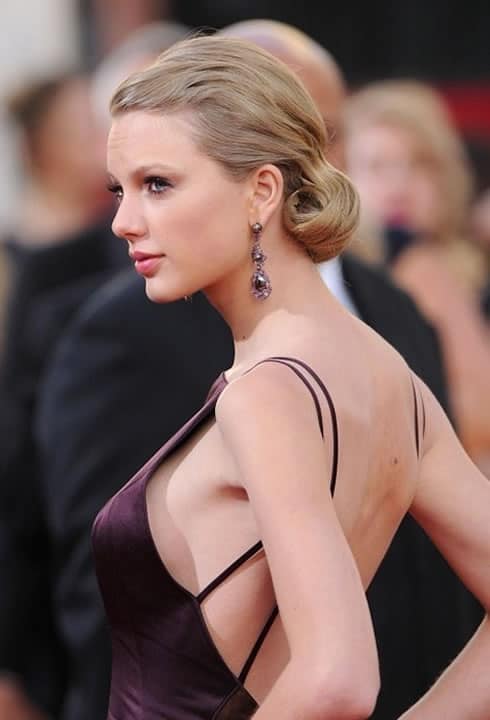 Credit: Getty ImagesTaylor Swift makes a curvy entry on the red carpet at the Golden Globes Awards in Beverly Hills. Her bust size has definitely increased so we don't blame you if you think that she's visited a cosmetic surgeon and got herself a breast enhancement surgery done. Just look how perky and full her boobs now looks! And with today's medical skills, it's very unlikely that we'll see any implant scars either.
By the way, are those wrinkles showing on her forehead? Given that she's only 24 years of age, so she better stick to her skin care routine, otherwise she may need Botox fillers or a browlift procedure to treat that area soon.
Year 2014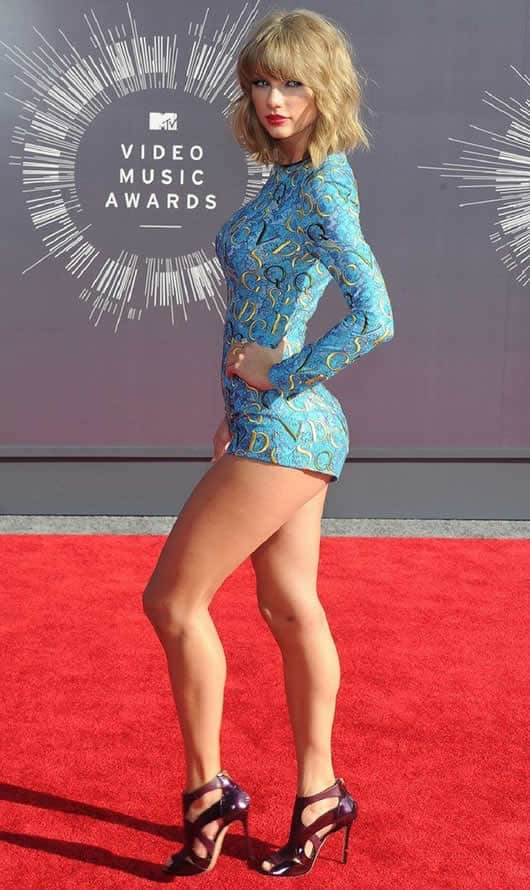 Image Credit: Getty ImagesIf you think Taylor Swift's got a new body, then you're absolutely correct! In fact, she looks nothing like the old stick figure that many people have criticized and then all of a sudden, she looks like the tall blonde Kardashian…WHAT! Are you sure those are her legs and her butt?
Okay, while you may be shouting plastic surgery, but we actually think she may have achieved that lower body through some fitness workout routines with a really good personal trainer. Look closely at her thighs and calf muscles…those legs honestly look like hard work. As to whether she has butt implants in her bum…we'll let you decide!
Year 2015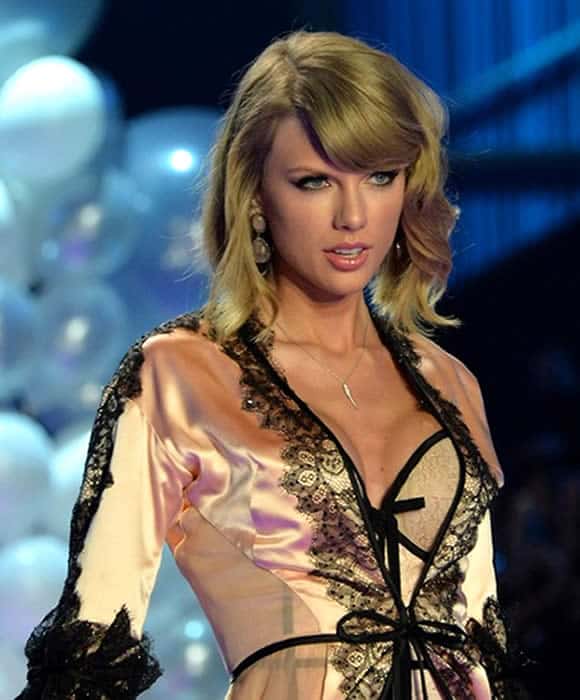 Photo Credit: Getty ImagesSeriously people, if those don't look like fake boobs to you, we don't know what does! Whether those breasts are real or not, it didn't stop Taylor from dating Scottish DJ and record producer, Calvin Harris, with the pair reportedly earning over $145 million in total, making them the highest paid celebrity couple in 2015.
Year 2016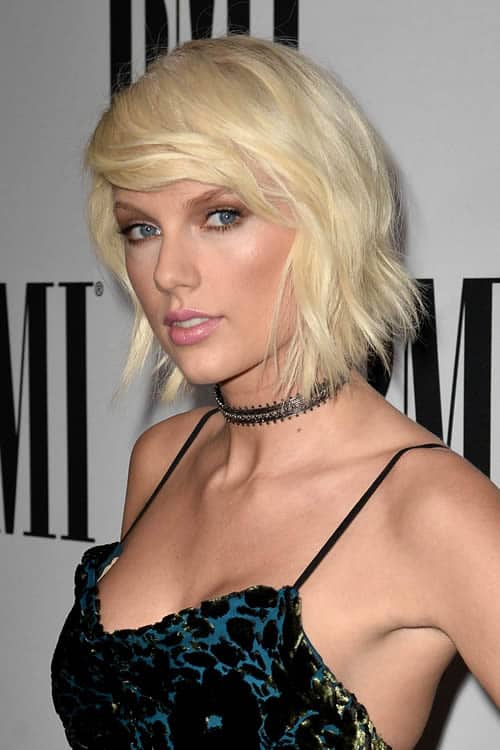 Credit: Getty ImagesThis was one of the most successful year for Taylor in which she won 3 Grammy Awards for "1989" album and "Bad Blood". There's been rumours suggesting that the star has got tattoos on her arms, body and foot, however we couldn't find any proof to support those claims. We've also seen photos of her with the tat, number 13 on her hand, but that turned out to be a fake tattoo only.
Year 2017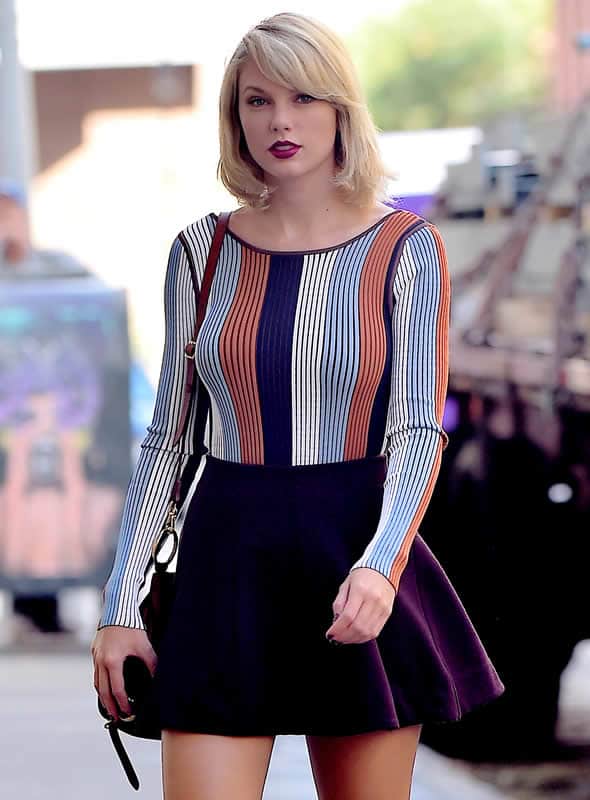 Picture Credit: Getty ImagesTaylor Swift is looking as classy as ever in this outfit and we don't even care if her breasts are fake anymore because the truth is, they look great! She released another top album this year, reputation and in case you want to see her in action, here's one of the latest video, END GAME, featuring Ed Sheeran and Future.
After this video was released, many fans are convinced that Taylor had undergone a breast augmentation procedure. Although we have suspected this several years ago, but you've just got to see how busty she was in this MTV.
Guess What We Found…
New Teeth & Veneer?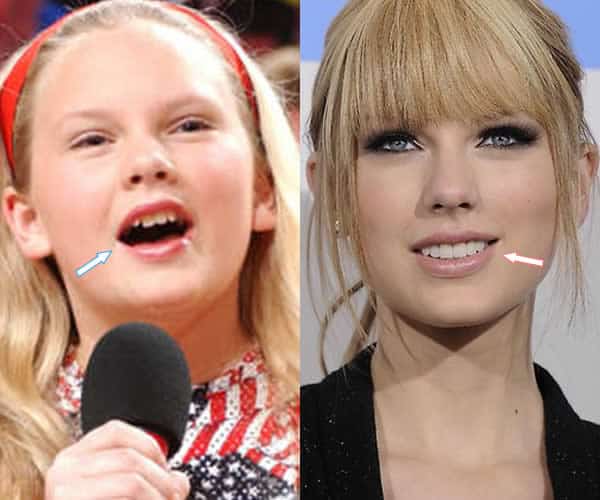 Taylor Swift's Teeth Before and AfterIt appears that Taylor had some bad teeth when she was growing up so it's quite possible that she's experienced some dental cosmetic procedures since youth. Whether that's through new teeth veneer or braces, we're not 100% but there's a good chance that she does have fake teeth.
Did Taylor Get A Boob Job?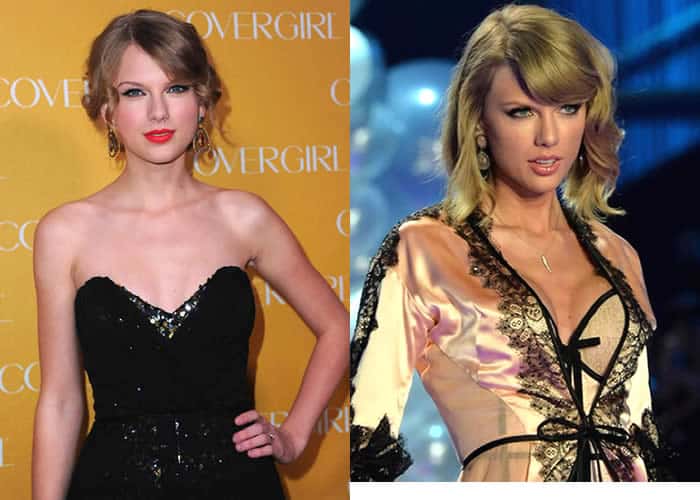 When you compare the before photo with the after photo on the right, it's very clear that Taylor's cup size has enlarged. It does seem like she's had a boob job between the years of 2011 and 2012. If this proved to be true, then judging from the shape of her cleavage, we believe this is a breast implants surgery rather than a fat transfer or grafting procedure.
Has She Had A Rhinoplasty Surgery?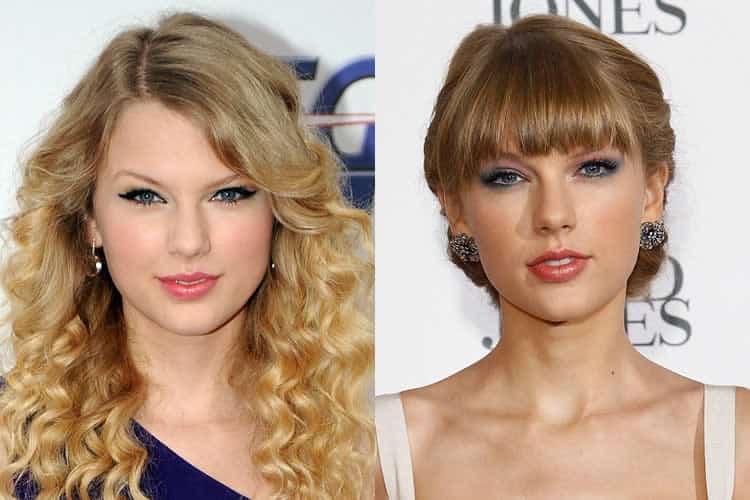 If you look at the photo on the right, Taylor's nose is visibly narrower and more refined. Whether this is a nose job or makeup effects, we'll leave that choice for you. But if this is true, then you've got to admit that her plastic surgeon has done a wonderful minor rhinoplasty in beautifying her nose without altering it too dramatically.
Does Taylor Swift Have Butt Implants?
If a picture is worth a thousand words…WOW! Enough said.
What Do Cosmetic Surgery Experts Think About Taylor Swift's Transformation?
Back in 2014, a Top Detroit Michigan Plastic Surgeon Dr Anthony Youn, shared his expert opinions about Taylor's nose change with RadarOnline.com. Here's what he said,
Taylor Swift's nose looks much thinner and more refined than it did when she was younger. It looks like she had rhinoplasty, which is the plastic surgery that celebrities have had the most. I suspect that a plastic surgeon did a very subtle nose job, making it look as good as it does.
Then in 2016, a New York Surgeon Dr Matthew Schulman told Page Six that he thinks Taylor might have had some work done to her breasts.
Taylor has always had a very petite chest but recent photos seem to show a fuller chest and more cleavage. We know that Taylor has a friendship with many Victoria's Secret models, so it so possible that she is rocking a new bra,
He then continued on and said,
It is more likely that she has had some surgical help. I suspect that she has had a surgical breast augmentation, taking her from a small A cup to a B cup.
Conclusion
After going through all the pictures of Taylor Swift, one thing we can be sure of is that whether she's had plastic surgeries or not, she is a true beauty with undeniable talents! Besides her minimal nose differences, we haven't seen much going on in terms of her face and she's too young to try facelift or fillers.
Taylor's body is perhaps one of the most debated subject among her fans and media over the last few years and the reasons are quote obvious as outlined above. Regardless whether these rumours are real or not, we think she's looking better and more feminine every single year.
Yes! We sincerely think Taylor is a beautiful person inside out who fully deserves everything that she's worked so hard for. So thank you for everything that you've done!
What did you think about Taylor's beauty?
Do you think she's had cosmetic surgery?